The beholdher.life origin story
When Seeds Are Planted – The Story of a Beginning | The idea of beholdher.life evolved from years of floating around and making small appearances in my mind's eye. It was a variety of concepts before it became real; a t-shirt business, a handmade greeting card business, a self published book, a community based art group, a retreat, and more recently, a blog-based portal with merchandise and self-created tools that support your personal, inward journey.
Most of these seeds for ideas never actually became anything more than a pile of post-it notes. For years that pile grew and traveled with me from one flat to the next. Then in 2007, those post-its tucked into a box in the back a U-Haul, I moved home from Halifax to Ontario. The pile never resurfaced after the move; lost somewhere between here and there. The ideas written there, however, still clung to the corners of my creative mind.
For most of my adult life I have been lost between here and there. What I have come to realize about that pile of post-its was that all those ideas represented a larger desire and need to belong to a community. At the core of each idea was a need and a desire to belong. Sitting here today while writing this, I am aware that not much has not changed. There continues to be a willingness to explore and to develop some semblance of community within myself; in the form of radical self acceptance. And, there continues to be a desire to develop and strengthen a self-love to honour my authentic nature, while being brave enough to embrace and live with flaw and imperfection. Knowing that my authenticity will attract what I so need and desire.

When Seeds Are Planted : Seeds begin to sprout
Fast forward a few years; the seeds firmly rooted into the very depths of my creative mind.
Prior to parenthood | I was a single woman exploring life, relationships, identity and the dynamics therein while establishing my autonomy and a life that could afford lifestyle and freedom. My adventure began at the age of 19 years and took me half way across the country with a bus ticket in hand and $20 in my pocket. I was off to someplace new to start something new and to discover how to navigate this thing called life. I had freedom and a chance to become without the restriction of external expectation. I was open to opportunity and open to amazing experiences with amazing people. I was finding out who I was and what I good at.
Everything that I had up to this point provided me with structure and direction and developed a foundation I could stand upon. My role was clear and my routine neatly in place. For years I operated cohesively within this structure until, as things go, I lost my way and began a downward spiral. Childhood trauma had patterned into adult trauma and caught me at my most vulnerable. The truth that sat behind the facade expressed how little self worth I possessed and I was exposed and manipulated. In the end I found myself back in my home province, living in my childhood home, seeking refuge and repair. Little did I know that my depression, anxiety and trauma was most likely un-diagnosed ADHD. Many years of therapy led up to my eventual ADHD diagnosis and continues to be a part of my mental health considerations.
I became a mother and felt like a fraud…
Becoming a parent was a transformational experience. I was 36 when my first daughter was born and 37 with my second. The birth of my daughters roused feelings that I had harboured since I was a child. Years of thought, intention and desire about who I wanted to be, but had failed to become, came flooding to the surface. I felt like the universe was closing in and openly confirming everything I feared to be true. It was like, becoming a mother had outed me as the fraud of a human being I secretly feared and felt I was. I wasn't good enough and now everyone would surely see. It was overwhelming, to say the least.
These feeling highlighted the many areas where I struggled; who I was? – what was I doing? – what wasn't I doing? – what should I be doing? – how should I be doing it? Completely shoud-ing on myself. My self-esteem was already shaky, and my self-worth was reliant solely upon external factors; something had to change. The path to happiness is bound to my commitment of healing and dealing with my trauma and the patterns I learned to cope. The path to happiness is bound to my commitment of radical self acceptance and exploring how ADHD has impacted my life and how I have come to understand my neurodivergence.
When Seeds Are Planted: Time to Reap What Was Sowed
The truth is that I have needed this outlet since the idea first made its appearance 10+ years ago. I have been skirting it since then as well. It is here, within this blog, that I can actually support change for myself. It is where my mental health can benefit, where my partner, my daughters and my family can benefit from the growth. It is where I am determined to express my radical self-acceptance and cloak it in a veil of self-love. It will be a challenge; an active reset, but I am calling upon the vulnerability, accountability, honesty and kindness that exists within me, to support me on this healing and revealing journey.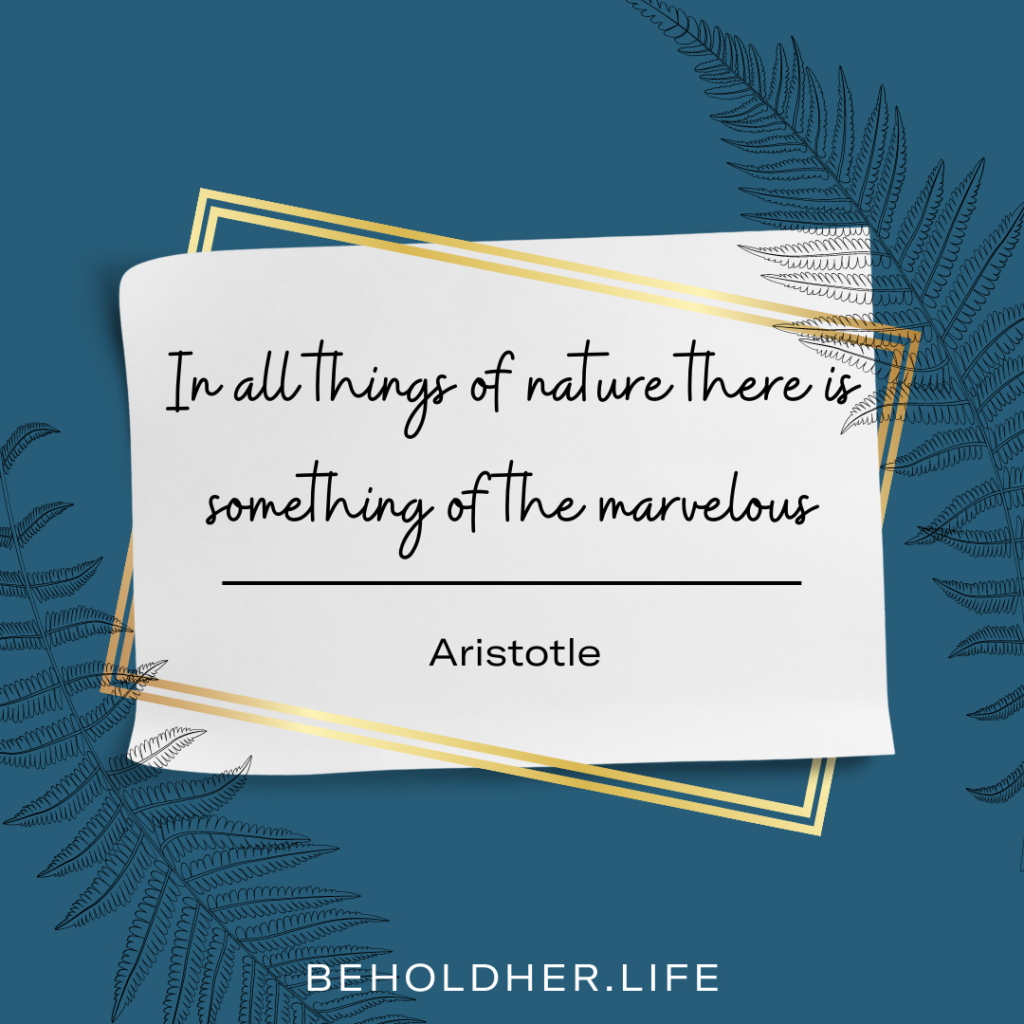 When Seeds Are Planted; the vision for beholdher.life took root.
beholdher.life is a space created to dedicate time to myself and my growth. It is a place for personal accountability. A space where my writing can become a priority again and where my creativity is granted time and freedom. A space where thoughts and ideas can meet words and intentions. Where once-idle fantasies and daydreams can begin building the reality of my tomorrow. This is my platform to begin again, to take the first step into the next chapter.
My story is not an original one, but it is mine. My previous actions and the reactions to my interactions with others were actions informed by my past. My willingness to approach and rework this is in response to my future.
I need a space to write and share, a space where I am aligned and free to be, to wander, to wonder, to revel, to feast and to love. I am a work in progress. My writing is a work in progress. My life, you guessed it, a work in progress. I am where I am at and I strive to meet myself exactly in this place. Here is where and how I hope to find myself, my purpose and my community. Help me create a space that is safe, where voices carry and are encouraged to gather and grow. A space where anything is possible!

POST SCRIPT – The story of how beholdher.life came to be and the introduction to my new pathway of being; learning how to navigate the process of loving and living my authentic self and finding my way home.