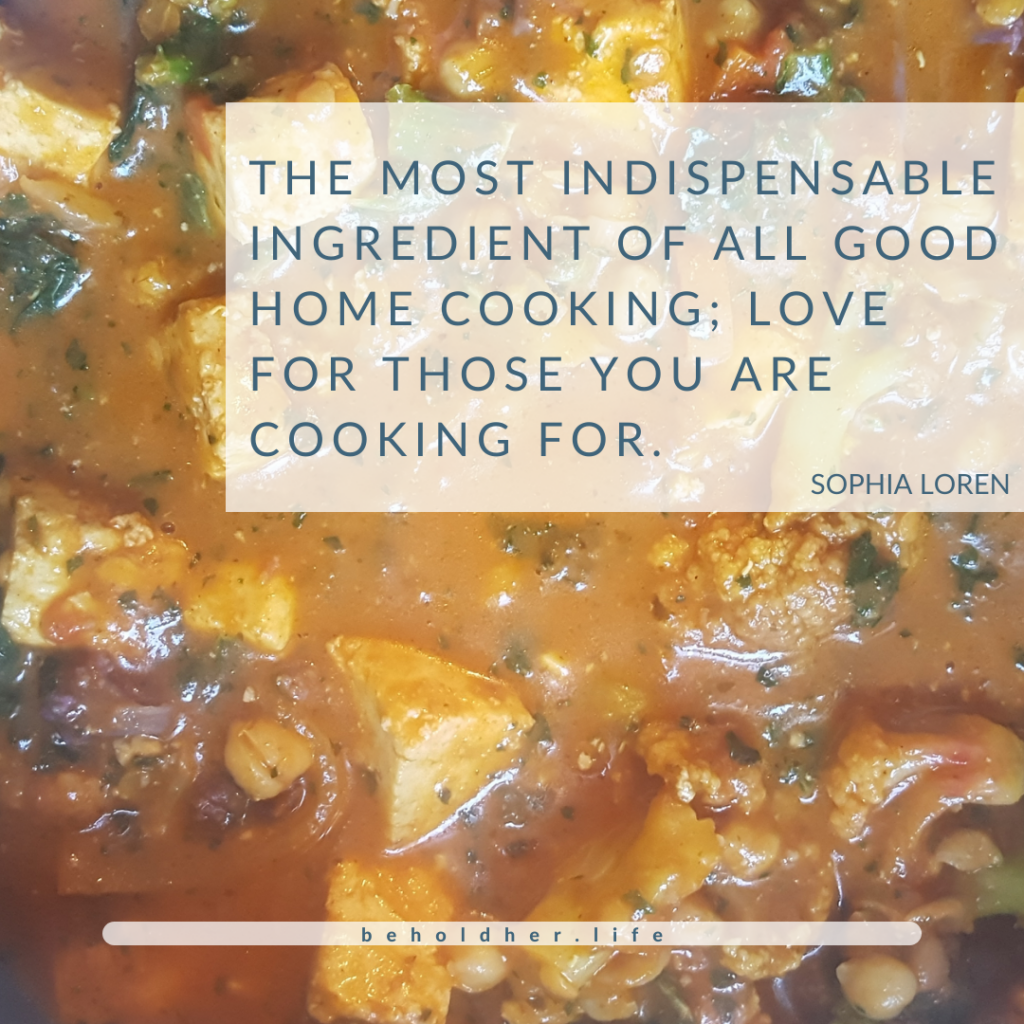 My Family's Favourite – Chickpea, Paneer & Vegetable Stew
Christy's Classics – A spin on some favourite flavours
My family's favourite Chickpea, Paneer & Vegetable Stew is an Indian inspired dish that has a history beginning some 12 years ago…
My partner introduced me to the flavours of India when we first started dating. At that point in my life I had very little experience with Indian spice combinations, the flavour and varying degrees of heat. What I knew of Indian food was butter chicken and even then I had only ever sampled it, I had never experienced it. The first place he took me was to a buffet with lots of options and safety nets (rice, fries, pizza, mac and cheese – of course these options are meant for children, but safety nets all the same!). On that date I ate butter chicken, rice, and merely sampled the rest. It was not an overly successful introduction.
Occasionally, he would bring home takeout that he and his office mates had ordered for lunch. He would eat it for dinner and I would eat leftovers. Then one day I decided to give Indian another try. An order of Aloo Gobhi (Potato, Cauliflower & Indian Spices) sat in the fridge. I warmed it in the microwave and ate it for lunch.
The experience was a full body experience! There was full flavour and more heat than I was used to, at the time. As I ate it my mouth was filled with flavour, delicious, amazing flavour! The spices tickled the back of my mouth. It was a fully engaged sensory experience and I fell in love.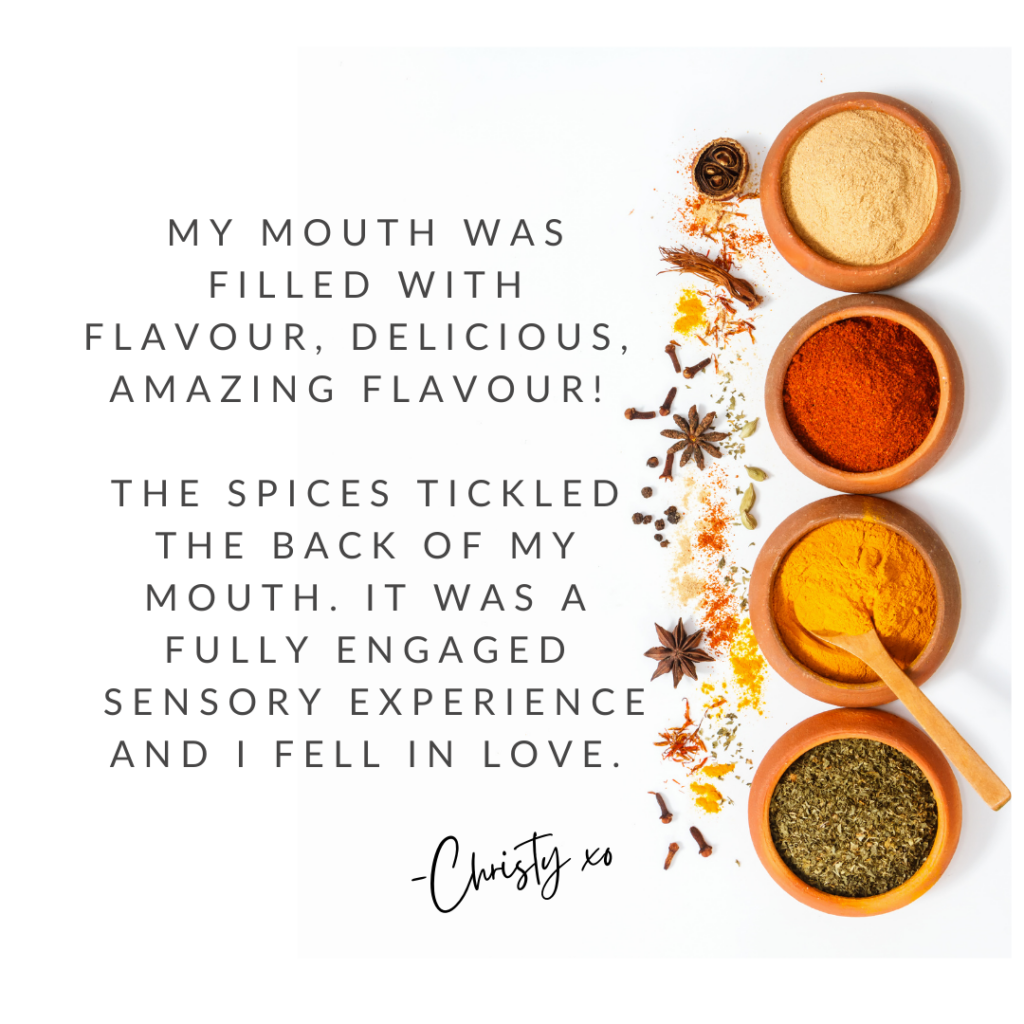 I wanted to explore this cuisine, I wanted to taste it all! I was hesitant about the heat, but took things slowly and am happy where I am at now. I have yet to try anything with a Vindaloo level heat, but maybe one day I will get there.
I LOVE to go out for Indian and have a couple of favourite spots. A couple of local options and a downtown city option. Amazing and gorgeous food prepared by people who are passionate about what they do. It comes across in their food. Family owned small businesses that I will always make time to support!
Bringing those flavours into my kitchen is scary. I truly know nothing about the spice palette and how to prepare the flavour combinations. But, with a little commercial sauce help and some common ingredients I was inspired to create the particular addition to the Christy's Classics Recipe Vault; the Chickpea, Paneer and Vegetable Stew.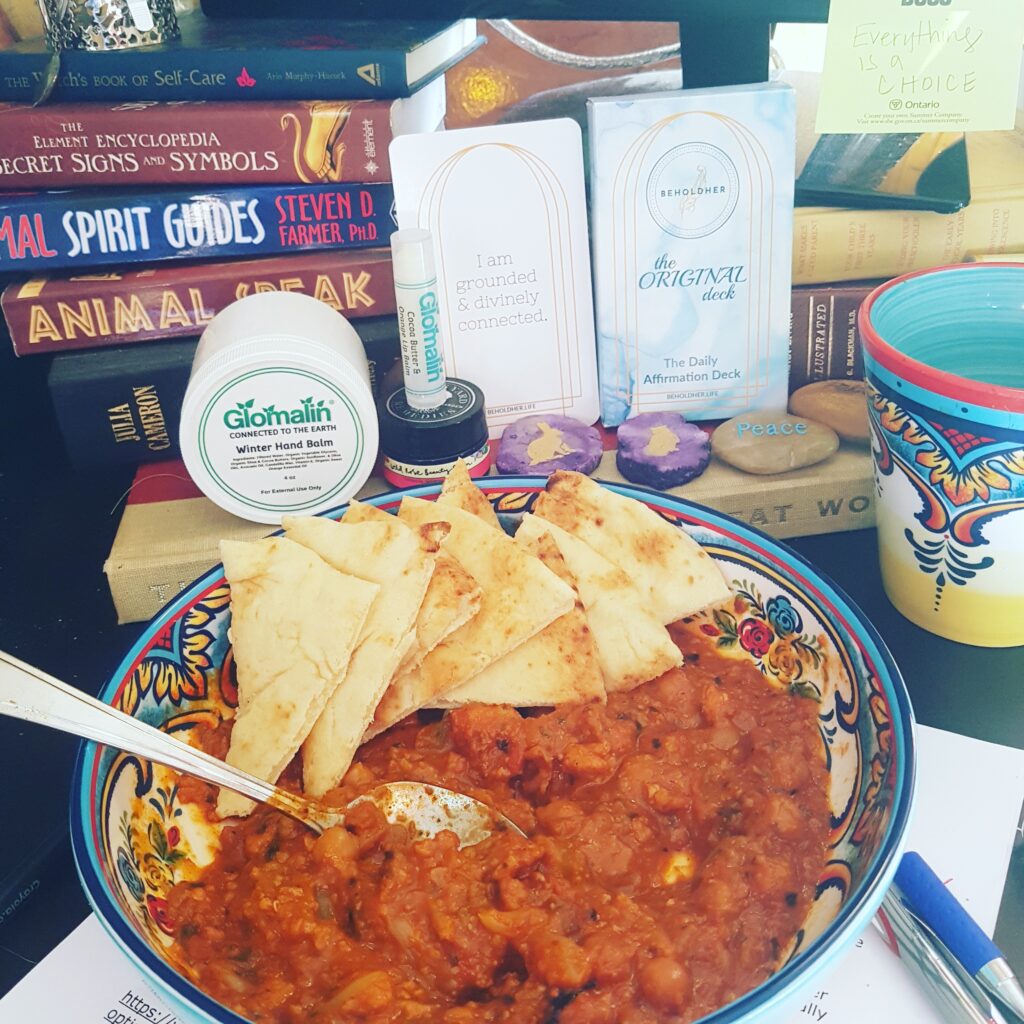 Christy's Classics are dishes that I have re-created from a long list of family classics; some of my favourite foods. I love comfort foods. I love food. I love to explore different cuisines and share those experiences with my daughters. While I love to cook, batch cooking works best for my schedule. I try to make one to two large batches a week. Those large batches become quick dinners to reheat, or lunches throughout the week, or frozen for those future crazy packed days when popping something into the oven to reheat works best for dinner and time! The Chickpea, Paneer & Vegetable Stew is perfect for batch cooking.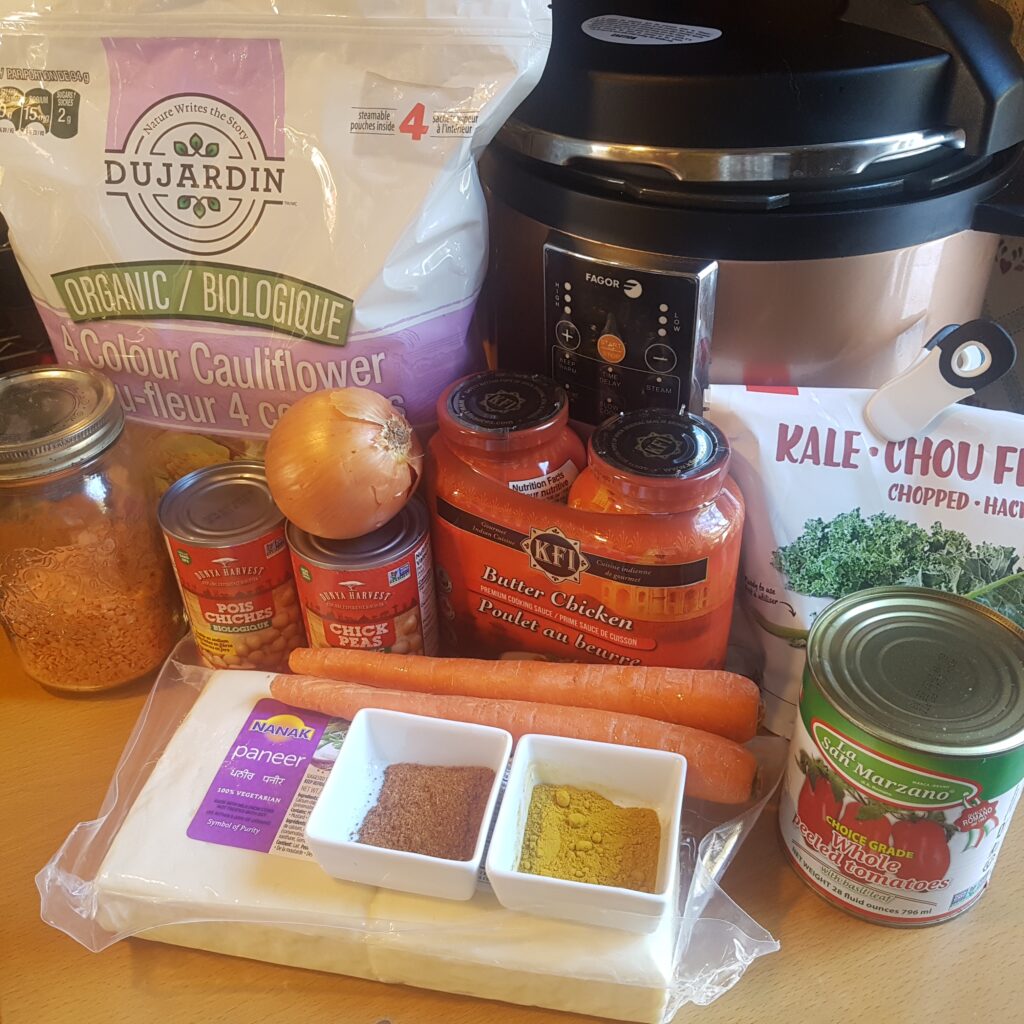 Christy's Classics – Chickpea, Paneer and Vegetable Stew
Prep Time: 1.5 hours
Reheat Time: 45 minutes
Total: 1.5 hours
Servings: 2 Dinners and 4-6 lunch portions
Ingredients
Butter Chicken Sauce – or your favourite Indian flavoured sauce
Tomatoes – I use canned; only the fruit – no juice – save that for something else.
Chickpeas – I use canned, but you can prepare dried chickpeas to use.
Fresh/Frozen Vegetables; Onion, carrot, celery, cauliflower, kale, garlic, lentils – I will throw almost any veggie in (a perfect way to use up veggies from the crisper. I have been known to add zuchinni, cremini mushrooms, sweet peppers, peas, black beans, squash, sweet potato, russet potato, cabbage, spinach, etc.)
Spices; I use prepared spice blends. I do not have the experience to build from scratch but it is something that is on my culinary bucket list. Choose your favourites and experiment a little.
Christy's Favourite Fagor (NOW Zavor) Lux Multi-Cooker:
I got "The Fagor;" my all-in-one cooking system a few years ago after my slow cooker met her fate and was replaced. The Fagor Lux Multi-Cooker is one of those steaming, slow cooking, yoghurt making, pressure cooking, rice creatin' miracles, that has made cooking for my family, while working from home and overseeing my girls online schooling, an enjoyable and efficient task!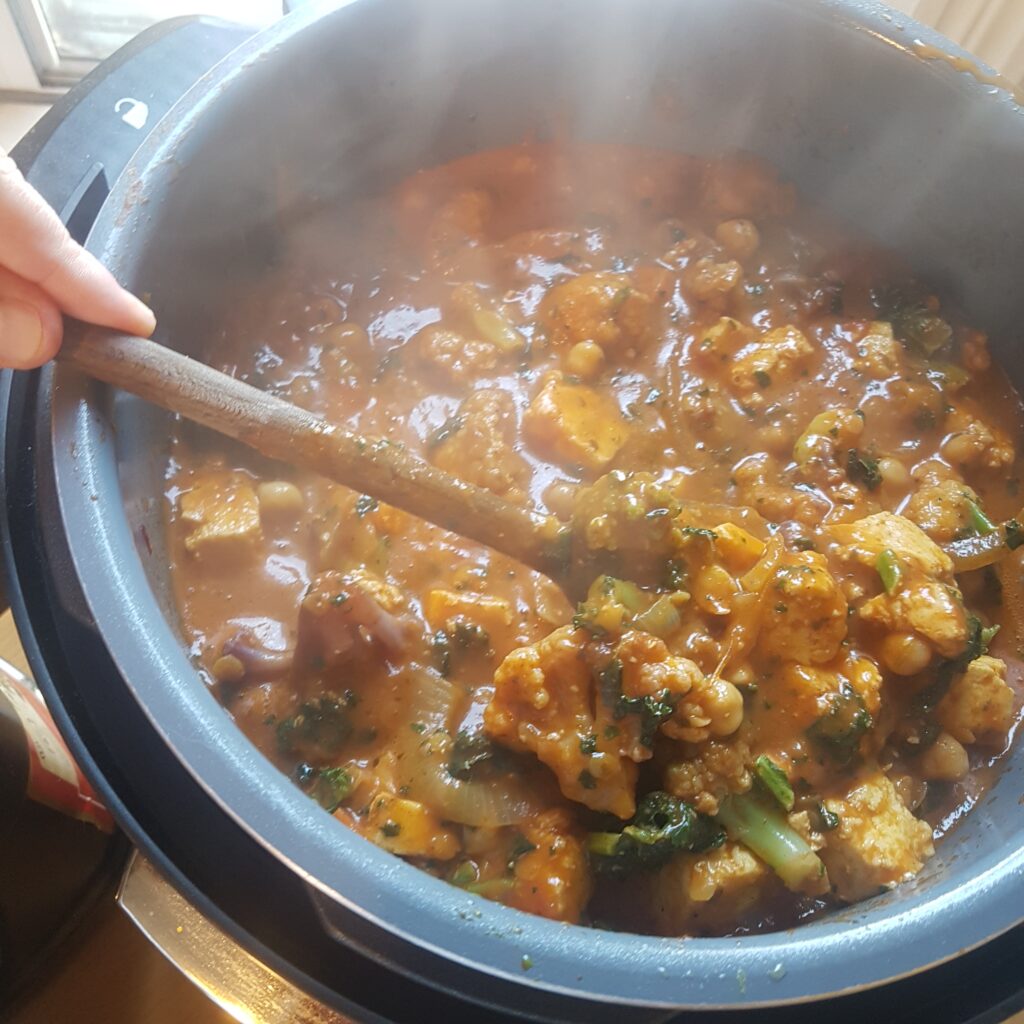 Eight Steps to Savoury Deliciousness – The Chickpea, Paneer & Vegetable Stew
Step One: Set "The Fagor" to brown and add some olive oil.
Step Two: Preheat the oven to 350 C. Toss the cauliflower in olive oil, salt and pepper, Indian spice blend of your choice. I also add turmeric at this stage. You may choose to also add onion, carrots, sweet potato and potatoes at this stage and let them roast with the Indian spices. Pop into the oven to roast for 45-60 minutes.
Step Three: Add some olive oil and chopped onions, carrot, and celery to "The Fagor" and allow to brown.
Step Four: To the onion, carrot and celery mixture add diced tomatoes, lentils, chickpeas and any other sturdy vegetable. NOTE: I add my leafy greens closer to the end of cooking time. Let simmer.
Step Five: I add the butter chicken sauce to the pot and continue to let it simmer.
Step Six: In a pot on the stove top I boil water to blanch cubes of paneer for a couple of minutes. This step really gives the paneer an amazing texture and helps it to better absorb the flavour of the dish.
Step Seven: I add my roasted vegetable and blanched paneer to "The Fagor" and let the flavours mingle and absorb.
Step Eight: Add your leafy greens. Once they have warm through and wilted the dish is ready to be served.
Christy's Notes and Mom Hacks for the Chickpea, Paneer & Vegetable Stew:
This Chickpea, Paneer & Vegetable Stew is excellent on it's own, hearty and tasty and healthy! But it is also delicious over rice.
Make a pot of rice and portion out Rice and Stew containers for lunches.
Serve the Stew over your kid's favourite pasta – this is how I got mine to eat this the first time.
Freeze the Stew and reheat for a busy week night dinner solution
Heat up some left over chicken, add Stew and chicken to a wrap, heat and eat!
I would love to hear about what Parenthood is like for you and all about your favourite family-friendly recipes. Leave me a comment and share with others who need this!